UPCOMING EVENTS
WINTER 2018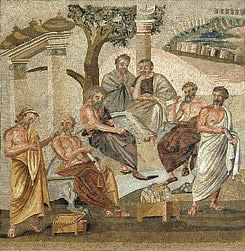 A Learning Curve Course
6 week course. Exploring the ideas of the earliest Greek natural scientists and philosophers and how they shaped Western thinking.
Fridays, Feb 2-Mar 9
1-3pm
$165
Hampton Inn
5950 N Oracle Rd
Tucson, AZ
SUMMER 2018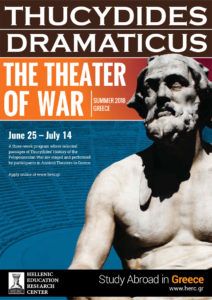 This will be the third summer for this innovative scholarly and artistic study of Thucydides' History of the Peloponnesian War where selected passages are staged and performed by participants in Ancient Theaters in Greece. A collaboration of
HERC
and the
DRAMATICUS CENTER
.
June 25 – July 14, 2018
SUMMARY OF PAST EVENTS
I was thrilled to return to acting on the Tucson stage in Borderlands Theater's, the 21st annual A Tucson Pastorela—a lively, dynamic, comedic, family-friendly yet somewhat bawdy spoof on the year's events, framed within a traditional Southwest version of the Christmas story. As I rehone my acting skills, I look forward to more theatrical opportunities.
Another great course for The Learning Curve in Fall 2017, "Relationships and Mythology," in which we explored 6 different familial relationships and how Ancient Greek and Biblical tales portrayed them. We examined the dynamics portrayed in these tales and how they shape current views. A very impactful exploration!
My lecture on "Mythology of the Night Sky" for The Learning Curve Food for Thought Lunch Lecture, October 16, 2017, went off fabulously to a full private room at Vivace Restaurant. Paul Fisher is unparalleled as an introducer, and the food of course was superb. »Check out the rest of the Lunch Lecture series!
As Smithsonian Journeys Expert on the second new 2017 Smithsonian Journeys tour Athens and Poros, A Stay in Greece (September 2017), I received outstanding evaluations for my role. I of course enjoyed sharing my love of ancient and modern Greek culture as we visited major sites in Athens, Mycenae, Epidauros, Nauplio, the islands of Poros and Hydra, and more!
Although I was unable to participate this time, Thucydides Dramaticus II, The Theater of War, July 26-Aug. 14, 2017, culminated with a public performance at the ancient theater at Messene, Greece, in the southern Peloponnesos. Greek playwright John Lignadis again penned the script, Yannis Panagopoulos directed, with set and costumes by Dimos Klimenof. As with Part I, Part II will be performed at schools and other theatrical venues throughout Greece.
My spring 2017 Humanities Seminars Program course on The Odyssey superbly capped my year of reading Homer with HSP students. It was a great way to delve into the many levels of meaning of the incredible Homeric epics. Check the UA Humanities Seminars website and The Learning Curve website for exciting course offerings and lectures, by me and others.
I participated in the annual Homerathon (spring 2017), reading of the entire Iliad, sponsored by the UA undergraduate Classics club. I read from Book 9, in both English and Ancient Greek.
Thucydides Dramaticus I, Summer 2016 was a fantastic program in Athens, Greece that began as a 2-week combined theatrical/academic study of select scenes from ancient historian Thucydides' account of the Peloponnesian War, as dramatized by Greek playwright John Lignadis. As we began, the play was added to the Eleusis summer performance festival. In 14 days the participants–36 Greek theatre students, 6 American Classics and other students, 2 Turkish women and 1 Chinese woman study directing at UCLA–under direction of Yannis Panagopoulos and Elena Kamilari, mounted a fantastic performance, with set and costumes by Dimos Klimenof. It has since been performed by Karolos Kuhn, one of the premier theatre companies in Greece.
Once again, both my fall adult, continuing ed courses in Fall 2016 went off swimmingly. The Iliad for the Humanities Seminars Program, Part 1 of a year-long exploration of Homer's 2 great epic poems, being continued in Spring 2017 with Homer's Odyssey. And The Landscape of Mythology for The Learning Curve.
This spring I got to explore new vistas as Study Leader on Smithsonian Journeys to Sicily and S. Italy, April 25-May 9, 2016. I got to visit many fascinating places I'd not seen before: Taormina, Mt. Etna, Agrigento, Sicily, and the distinctive S. Italian villages of Matera, Lecce, Polignano a Mare and Sorrento. Check out the photos on my ARIELA, LLC FB page.
Both my spring courses went very well: "War in Ancient Greek Drama" for the Humanities Seminars Program and "Women of Power in Antiquity" for The Learning Curve. I'm thrilled that there will be more to come at both venues. See above.
We had a wonderful 1-YEAR ANNIVERSARY CELEBRATION OF ARIELA, LLC on Sunday, October 25, 2015, at the wonderful location of the Civano Community Center, hosted by Gail Arrenholz. I had brought Turkish Delight and little mementoes from Turkey–mini turtle magnets and little "evil eyes"–to hand out at the party. We had luscious food, wine and camaraderie, and I spoke briefly on the situation in Greece and Turkey.
I spoke on "Travel to Greece and Turkey–Is It Safe?" to a small and attentive group on Oct. 30, 2015, at Quail Creek Country Club, Green Valley, AZ.  Attendees had many concerned questions about this important topic.  A very good meeting.  I hope to do more.
Another great trip as Study leader on Smithsonian Journeys, "Legendary Turkey and the Turquoise Coast," Sept. 26-Oct. 10, 2015. It's so enjoyable to travel with people who enjoy travel and learning together in a delightful atmosphere. Another wonderful Turkish guide, Gökhan. Check out the photos on my ARIELA, LLC FB page.
Another fascinating Odyssey Storytelling evening when I presented on the theme of "Passing," Thursday, Nov. 5, 2015. Check out their monthly programs of insightful personal stories, 1st Thursday of the month at The Screening Room, Tucson, AZ, odysseystorytelling.com.
The 2014 Performances of "KALEIDOSCOPIC HELEN: A Dramatic Reading of Ancient Greek & Modern Poetry That Present the Many Faces of Ancient Helen," Performed in English (mostly) by Bill Burnett and Bella Vivante, were a great success!
My 2014 lectures on "The True Story of Helen of Troy," for The Learning Curve Food for Thought Lunch Series and Arizona Senior Academy were also smash hits that I look forward to more of.
CONTACT ME if you have an idea for readings or lectures or would like to make arrangements.